Sunday, June 22nd, 2008
In Japan, speaking Calligrapher, it might remind you of Japanese style Calligraphers. However, even in Japan, there are many Western style Calligraphers.
The exhibition titled The works of Calligraphers Guild was held at Gallery Kubota in Chuo Ward, near the Tokyo station. More than 200 works got together and were displayed in four rooms. There were several styles of expressions such as classic, modern, relief and a mixture work Japanese and Western styles.
One of Calligraphers I would like to see, Izumi Shiratani showed a beautiful work. Her work was really great and had gorgeous drawing lines. I've been acquainted with her since I met her at some party a few years ago, so I asked her to meet there in order to ask some questions about her recent work and activity.
I also asked her opinion about designing letters. I told her that I would need a Calligraphic style Logotype for package design, so I've been looking for a Calligrapher to draw letters for a logotype. I would like to know her opinion about whether Calligrapher would like to have opportunity to design logotype or not, or she can get the offer if I asked her. We exchanged opinions what the difference among art work and design work is, what problems are to design logo work, what art director should do for Calligrapher when they work together. She made me clear there's nothing to worry about. I'm glad to hear that and I would like to work with Calligraphers to make Logotypes in the future.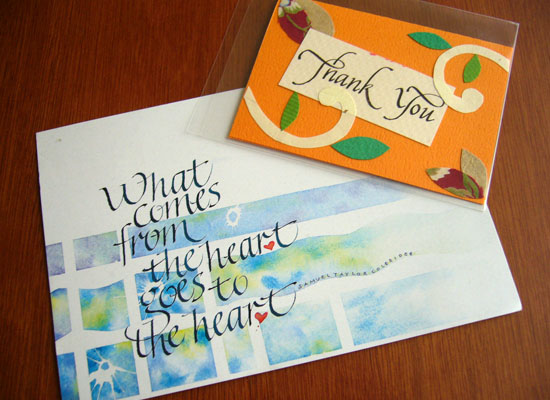 The direct mail and Thank you card for this exhibition.
This exhibition goes around to Sendai, Okayama, Osaka.