Saturday, December 24th, 2011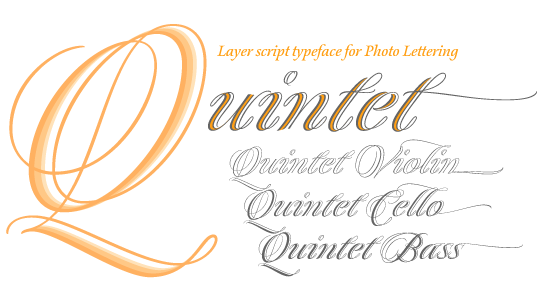 I'm very happy to announce that my own first retail typeface Quintet Script joins Photo-lettering Collection running by House Industries. This typeface was initially made for the Typeradio workshop, titled "Typographic Chinese Whispers" and was held in Feb. 2011, and restarted as the final project of TypeMedia 2010/2011 class at KABK in the Hague, the Netherlands. Quintet for Photo-lettering consists of a combination two exclusive weights (Violin and Cello) and one most heavier weight from the regular family to go well with Photo-lettering's unique outline download service.
I hope you enjoy this typeface for your graphic, packaging or greeting card project. Its three layers create many colorful combinations or unique arrangement by applying emboss effect or metallic color or gilding to one of three layers. It must be also nice for a screen media such as a titling of video clips or web contents. You can get a lively titling image by applying animation effect to a stroke which looks like a double-stroke but consists of a single-stroke.
I also would like to release original five-layer design as an OpenType font, and now I'm preparing for releasing it but no schedule has been decided. If I've got a clear schedule or plan, I'll disclose it here.