Friday, May 23rd, 2008
I went to attend TypeCon Seattle 2007 last year. This was the first time for me to go a type conference was held on overseas. I got a chance to take type critique named "Ten minutes type critique" known as a regular event on TypeCon. Now you can find the audio and specimens on the critique that was held on TypeCon Seattle 2007 on YouTube.
TypeCon Seattle 2007: Typecrit 1 of 4
I recorded everything so that I could listen them after I'd back to home, because I didn't think I could listen everything due to lack of my English skills,
Eben Sorkin, was one of designers joined 10 minutes critique, asked me to get the audio and he proposed we should provide this audio to every one who was curious about this event. And then, he compiled several photos, specimens, and movies to edit this audio and uploaded to YouTube.
The 10 minutes type critique is a regular event of TypeCon. Three critics provide their opinions to the attendees watching submitted type designs. Matthew Carter, John Dawner, and Akira Kobayashi were the critics at that time. Every attendee have 10 minutes only. They explained their concept and asked critics several questions within 10 minutes. The audience also asked their question about attendees works.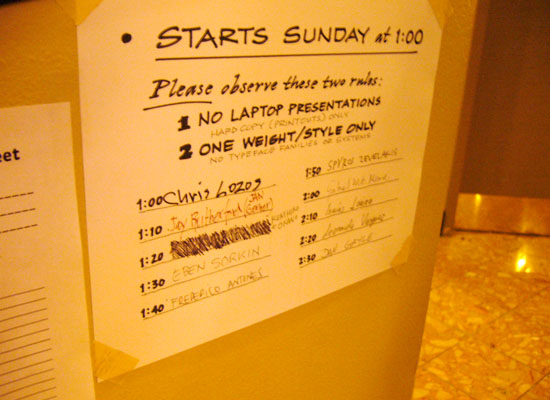 photo:The member list of 10 minutes type critique on the wall of front desk.
I wrote my name third place after someone quit to attend. Great!
This critique was very useful and helpful learning designing typeface. Not only I got several opinions from three critics but also it was useful to hear the opinions to the other designers.
I could understand easily where he important point was or how I should compare with the difference in the element. I'm pretty sure it is worth listening.
I couldn't believe some famous type designers attended this type crit. Gabriel Meave, who is a really gifted type designer, attended this crit to show his font "Darka", as you know, got the TDC prize. I though he didn't need to join this crit because he could do everything! The other two Mexican type designers were also talented. AtypI conference will be held in Mexico City in next year. I guess type design in Mexico must be better to improve drastically.
At the farewell party of TypeCon Seattle, Mr. Dawner told me I should bring my revised type design to Buffalo. Thanks, Mr. Dawner!
P.S.
Related thread on Typophile.
TypeCon 2007 Typecrit video